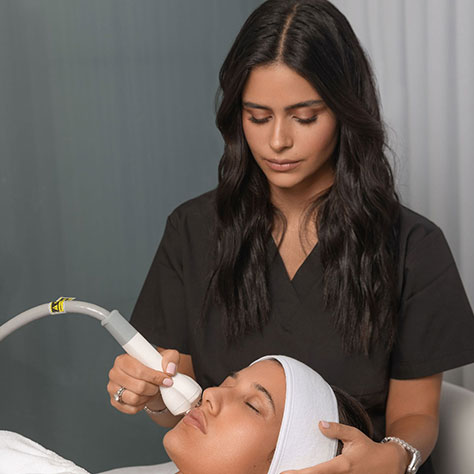 facial rejuvenation treatment device
A tri- modality aesthetic facial therapy, exclusively at LUMIÈRE
TriBella™ facial rejuvenation is a high-intensity non-invasive solution that gives highly visible results, fast. Combining three unique procedures into one complete skin renewal treatment, the TriBella™ treatment exclusively available from our Venus Versa™ device will leave your skin feeling incredibly smoother, and looking younger and healthier.
The Venus TriBella™ photofacial treatment corrects discoloration, fades age spots, reduces sun damage, and improves skin tone. Then, the anti-aging treatment diminishes fine lines, reduces wrinkles*, and firms up skin. Lastly, the skin resurfacing treatment smoothens out the appearance of uneven skin texture, scars, rosacea, enlarged pores, stretch marks, and other skin textural concerns.
1. Skin Resurfacing and Photo Facial
TriBella™ skin resurfacing improves skin texture by delivering channels of energy deep into the skin, using tiny electrode pins to create micro-dermal wounds with minimal impact on the epidermis. As the skin heals, it naturally boosts collagen and elastin production for total skin renewal.
2 ANTI-AGING
TriBella™ anti-aging uses a comfortable combination of energy types to produce heat beneath the skin, helping to promote healthy blood flow and increase the production of collagen and elastin fibers. The result is skin that looks firmer and younger, and with fewer lines or wrinkles*.
LUMIÈRE skin transformation